De soundfresh
cryogene behandeling
Voor een nieuw speelgevoel.
Een zeer goede manier om de resonantie van jouw instrument & equipment te optimaliseren.
De soundfresh behandeling
Tijdens de cryogene behandeling worden de instrumenten zeer langzaam gekoeld met een snelheid van 1-2°C/min tot -180°C in een speciaal gecoördineerd proces met verdampte vloeibare stikstof. De langzame koeling voorkomt een temperatuurschok.
Na verschillende temperatuurcurven te hebben doorlopen, worden de instrumenten uiteindelijk verwarmd tot 35 °C. Het geleidelijke en langzame koelen en verwarmen over een langere periode zorgt ervoor dat het gehele materiaal of instrument gelijkmatig en voorzichtig wordt behandeld.
Na een totale tijd van ca. 20 uur kunnen de instrumenten uit de kist worden genomen en het behandelingsproces is voltooid.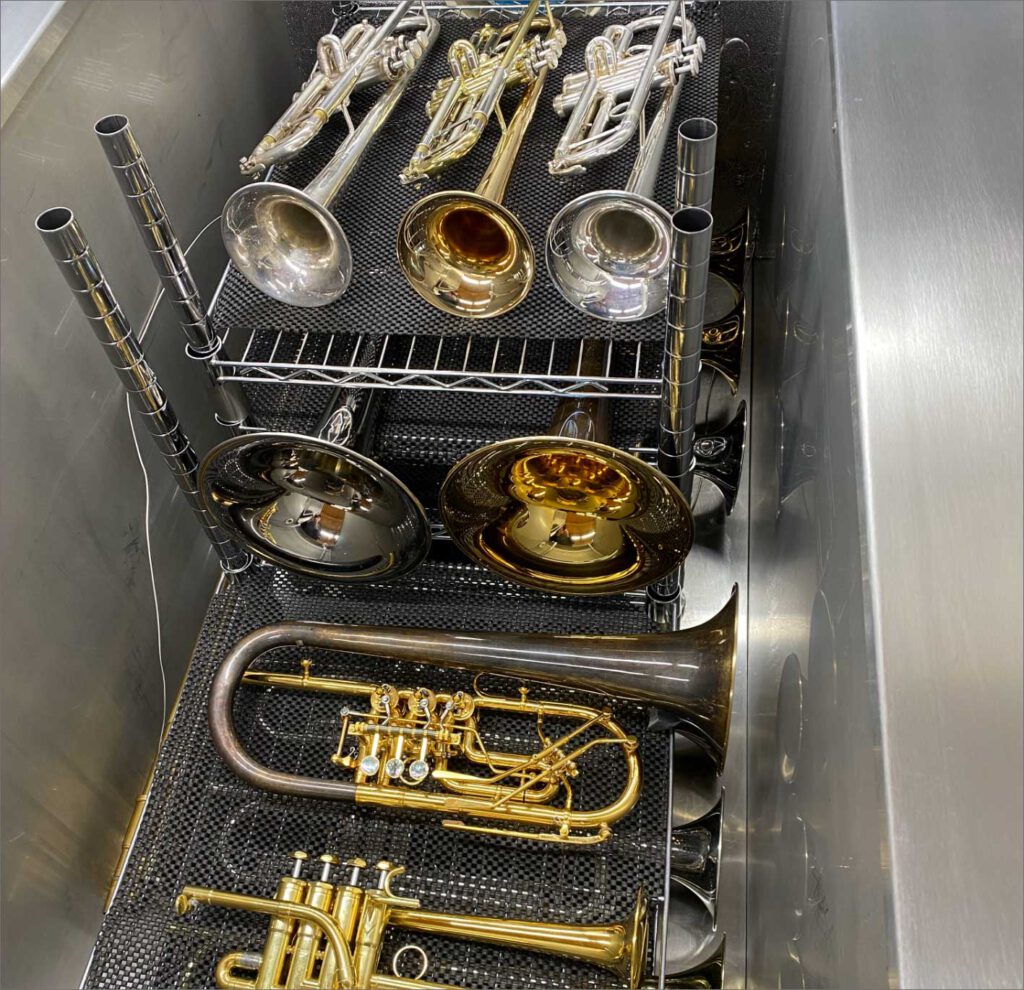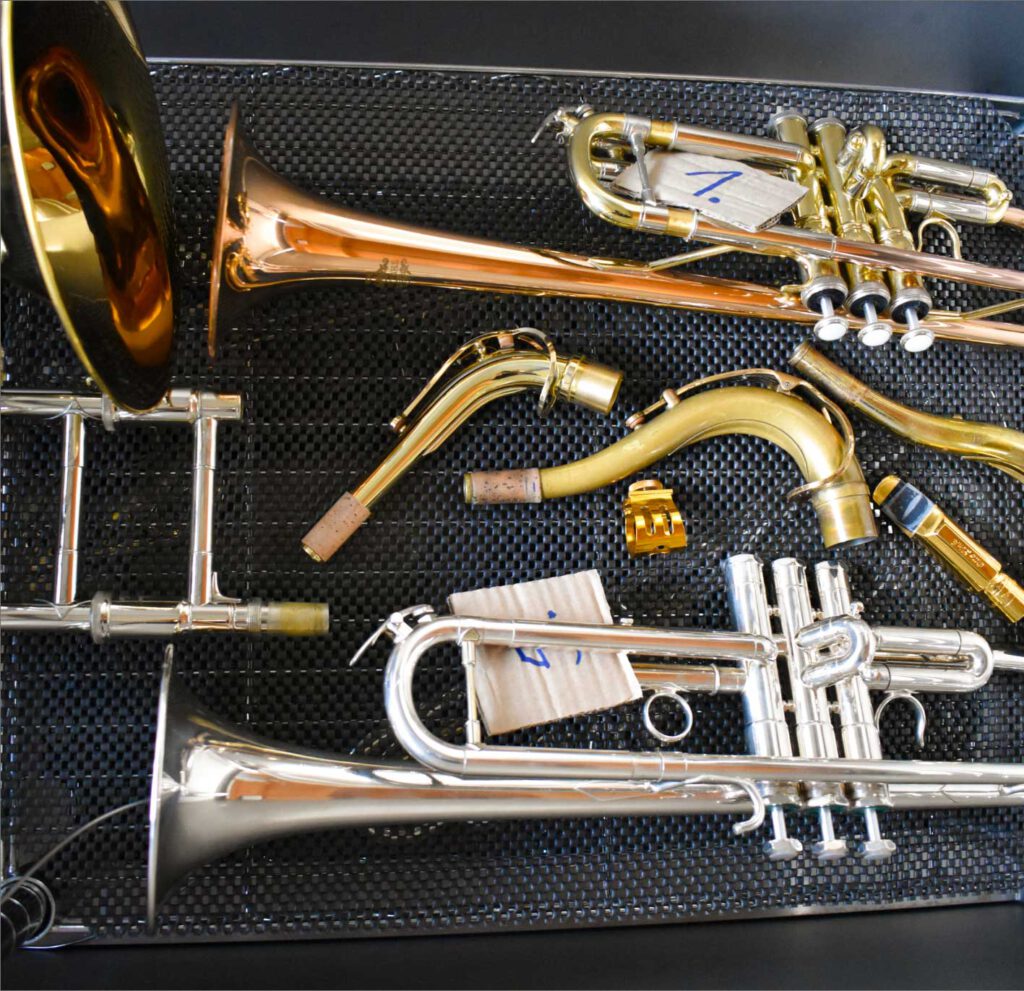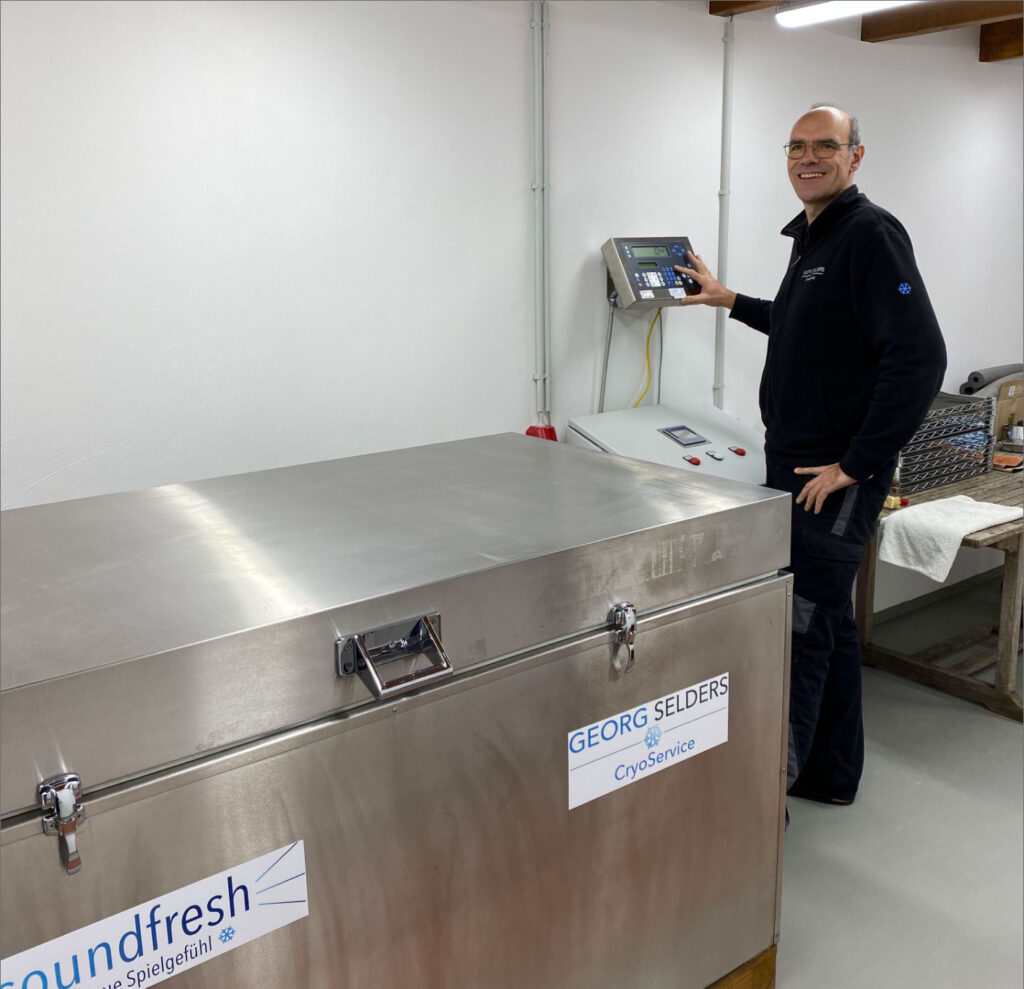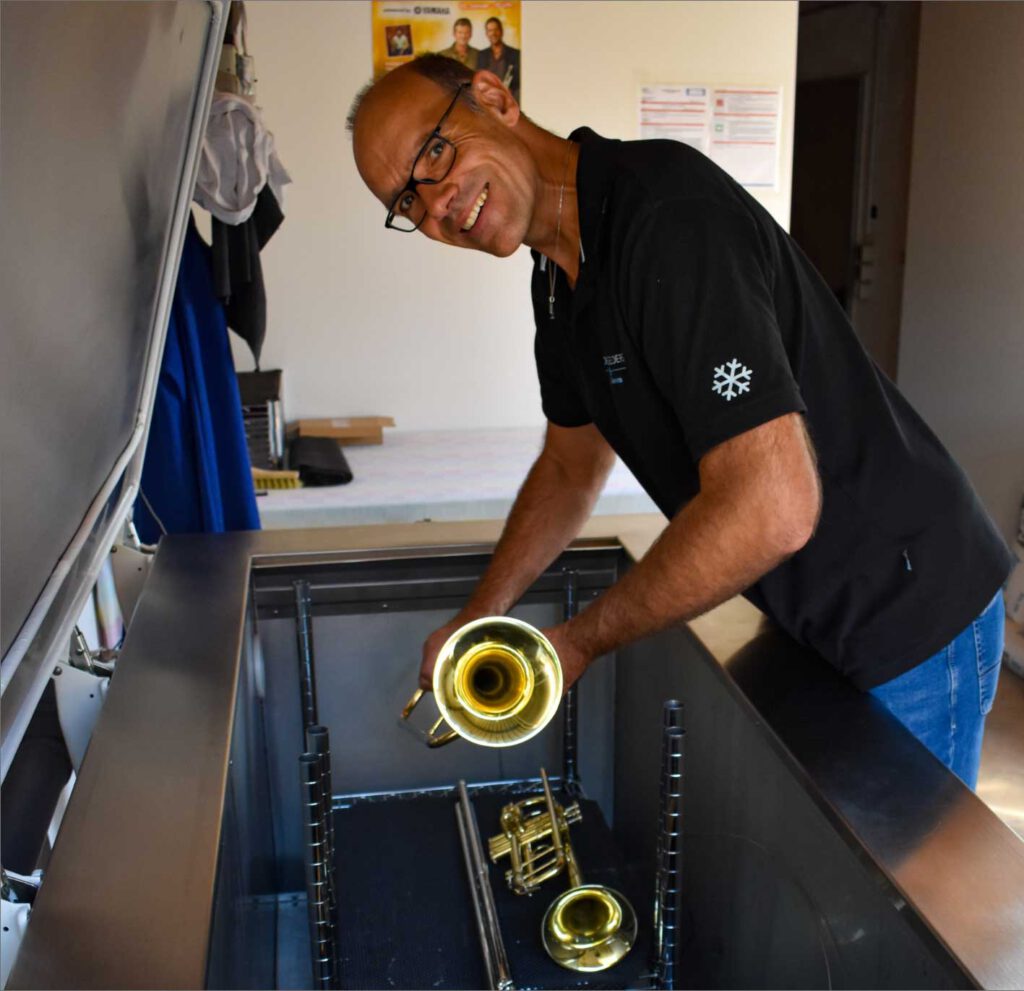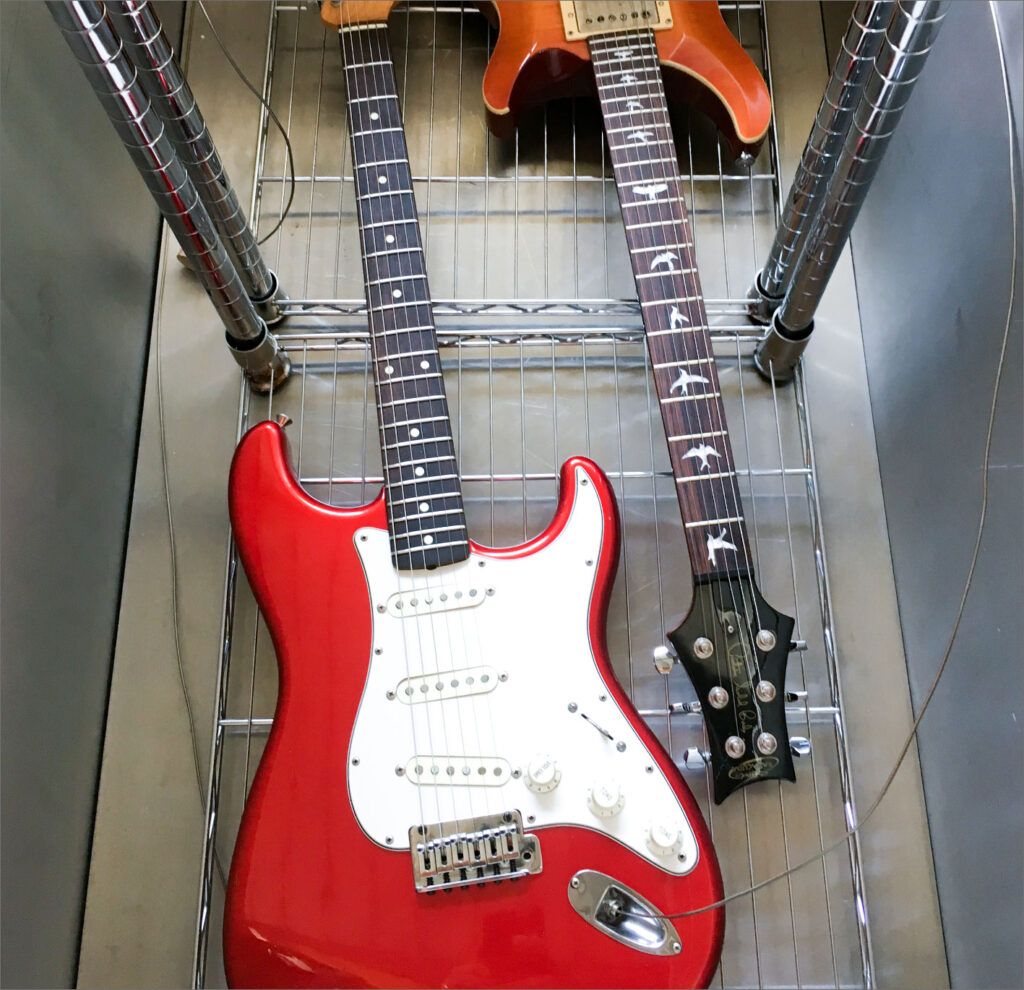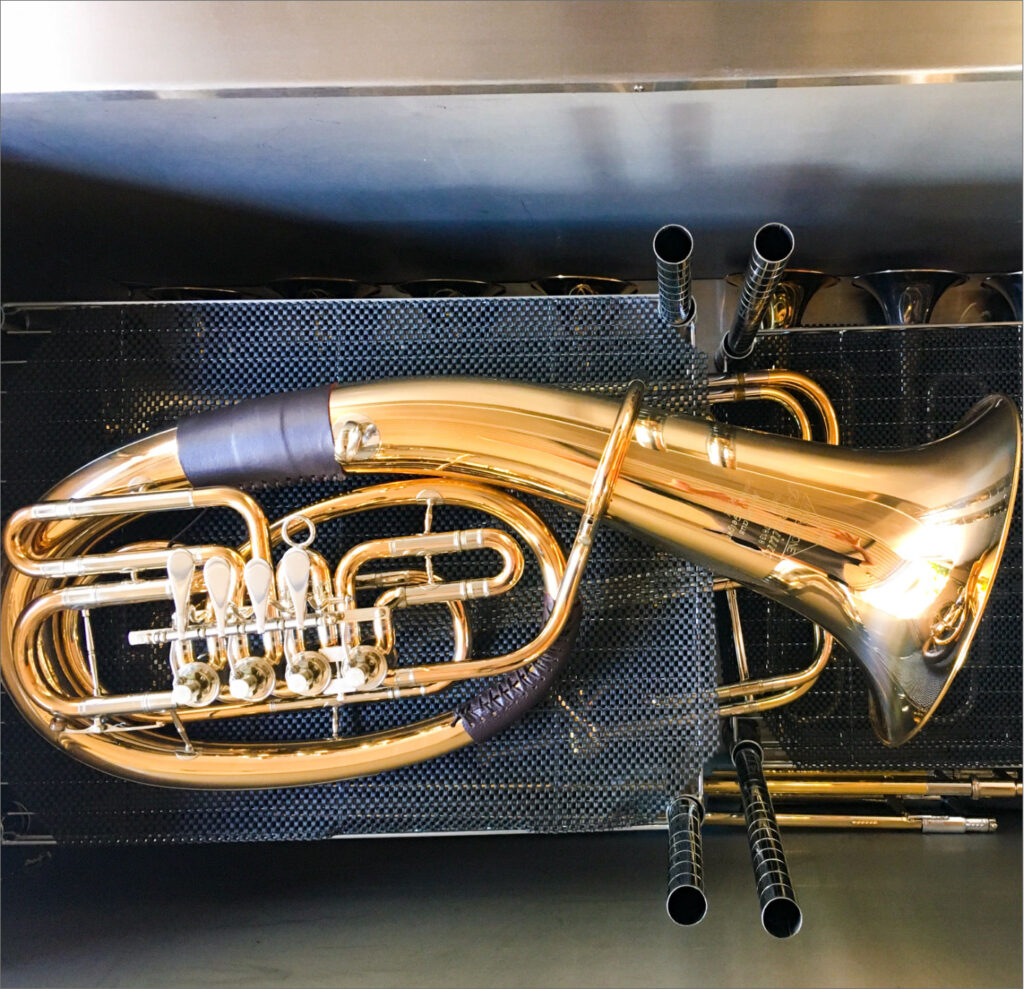 Welke instrumenten zijn geschikt voor cryogene behandeling?
Dit gaat van een fluit tot hoge koperinstrumenten (b.v. trompetten, bugels, cornetten) en lage koperinstrumenten (b.v. trombones & tenorhoorns) tot tuba's. Maar ook saxofoons, klarinetten, percussie-elementen, accessoires en zelfs gitaren kunnen met succes worden behandeld…
Vooral gerepareerde instrumenten – vooral na soldeerwerkzaamheden – kunnen baat hebben bij de soundfresh-behandeling, omdat door de behandeling de spanningen weer in evenwicht worden gebracht. In de snaarinstrumentenbouw zorgt de behandeling van de basislichamen ervoor dat het hout kan rijpen, een proces dat anders jaren duurt, en dat de klank van het instrument wordt geoptimaliseerd. In het geval van snaren wordt de blijvende elasticiteit en daarmee de stabiliteit van de toonhoogte en de duurzaamheid verhoogd. Elektrische gitaren krijgen een speciaal vintage-effect door de cryogene behandeling.
Ook voor drums en percussie maakt soundfresh het verschil. Maar ook andere elektronische componenten, kabels, buizen en accessoires kunnen baat hebben bij de cryogene behandeling.
Op het instrument wachten
Hoe lang moet ik op mijn instrument wachten?
Je wilt graag een soundfresh behandeling voor je instrument, maar je kunt of wilt niet zo lang zonder je instrument? Daarom maak ik afspraken met de muziekanten en plan deze zo in dat de tijd voor jou zonder je instrument zo kort mogelijk is.
De behandeling zelf duurt ongeveer 20 uur en duurt meestal een nacht. Hoe lang u het zonder uw instrument moet doen, hangt af van het feit of u het naar mij opstuurt of het persoonlijk brengt en/of ophaalt. Je zou het ook 's morgens op de dag van de behandeling kunnen brengen en de volgende dag om 12 uur ophalen. In geval van levering moet u rekenen op ongeveer een week.
Wat is het geheim van de cryogene behandeling?
Is het beter een oud of een gloednieuw muziekinstrument te behandelen?
Welke risico's moet ik verwachten bij de cryogene behandeling?
Moet ik mijn instrument voorbereiden voor de behandeling?
Hoe pak ik mijn instrument goed in?
Hoe zacht is het proces van cryogene behandeling?
Now that my two ELEPHANT Bb trumpets have been low-temperature treated at soundfresh, I can give an objective assessment. After the treatment, the playing feel of both instruments is clearly "different", "better" than before. Georg Selders' slogan, THE NEW FEEL OF PLAYING, hits it on the head. The handling is highly professional and serious. There was no damage to the instruments after the treatment. However, if you think you can fix your technical deficiencies with the treatment, you are once again on the wrong track. It is really "only" the feeling of playing that changes in an impressive way.
"The feel is amazing, I am thrilled. The bindings go like butter. The notes are very "close" together and snap even better, especially from the 2nd octave well into the 3rd octave. Wow! I can highly recommend the Soundfresh treatment now that I have tested it myself with a clear conscience! I will now also have my trumpets treated with Soundfresh. Thank you Georg Selders for the great work."
The Cryo-Tuning has had an amazingly positive effect on the sound of my flugelhorn. The sound is more balanced in every register, there are no more "weak notes". The instrument sounds warmer and is overall easier to play, more flexible and much smoother. Nor is it a temporary result, the positive change is permanent. Hard to believe, but the cryogenic treated mouthpiece also goes much better....
The fine hairline cracks covering the entire surface of both guitars look great to me. But this is surpassed many times over by the improved sound characteristics. I have now tested the guitar at rehearsal and at the gig with the band and it is an incredible pleasure to play these two tuned guitars. The low bass sides no longer mash, are pleasantly clear and defined. The high, thin strings no longer sound so thin and sharp. Much warmer and rounder. The strings sound extremely harmonious with each other. Thicker strings sound the same as the thinner ones. It's an incredible Fender sound and my band mates were quite impressed.
I am really enjoying the changes that have come about 🙂 The trumpet now plays smoother overall, sounds rounder and I prefer to play with the narrower mouthpiece because it makes a nicer sound and is easier to play. It is now much easier for me to centre the notes in the high register. My flute has become totally super 🙂 The fis 3 runs much smoother in the row and responds much more easily than before. Overall, the flute resonates much better and the low and middle ranges respond better and are louder than before. I'm totally happy, it's really fun to play.
I have to say it again... I now had the time to play my Bari intensively for 2 hours... and I am really blown away... everything is really right. Softer tone/sound, but also fat and poisonous if you want. Much wider with much less "playing effort"! The response of the tones is insane, especially in the high register. It almost runs by itself now. My problem tone now just comes clear and clean right away.
I honestly didn't expect this treatment to bring such a big change. Simply unbelievable! The biggest difference is in the response and feel. It feels lighter, bindings succeed better and the high notes sound absolutely precise. The first impressions have been fully confirmed after weeks and in different playing situations. When playing together with other instruments, it is easier to blend as well as to stand out in terms of sound.
After the cryogenic treatment, my trumpet is more responsive. I have the feeling that the notes lock in better and that the instrument can now be played more centred and open. Tones that were a bit more effortful for me before are much easier now. The trumpet has a more balanced sound overall. I find the treatment simply great and am equally amazed at the positive changes.
The first instrument I had treated was a 70-80 year old handmade Bb tuba of the Hess brand, and after the convincing result, a modern Melton "Fafner". After the treatment, the response of both instruments is easier, the tone is more centred and the notes can be played better in all registers, whereby the change is most noticeable on the old tuba. Especially in the lower registers, the notes go off more easily and are more centred. I no longer have to concentrate so much to hit problem notes better and can play music in a more relaxed way.
In the course of my work for "Sonic", I had the opportunity to have 3 of my instruments treated. All of the instruments, on which I had nothing at all to complain about before, have noticeably and audibly improved in sound and playing behaviour. The changes are really amazing! The instruments have all gained considerable depth of sound. All the notes snap into place excellently throughout the entire range. The sound of the instruments has become much more open and richer in overtones.
I have already had three of my saxophones treated with soundfresh. The response is much easier, the instrument goes straight away. I can use the full range in every dynamic and saxophone-typical "problem tones" have disappeared on each of my instruments. Both old and new instruments benefit from the soundfresh treatment and I can really recommend it.
Dear Georg, I can recommend your soundfresh treatment to any musician, my trombone has changed to a better and different instrument! The sound and the response are fabulous, I have the feeling that I can rely on my instrument 100%. Thank you for your great and uncomplicated arrangement!
I visited Georg Selders CryoService. It's amazing how this has a positive effect on the response! The instrument sounds warmer and is easier to play overall. All the notes click into place perfectly throughout the entire range. You guys have to try it out!!! Great!
I was allowed to take my horns out of the box and was really surprised about the result and I'm really happy with it, I wouldn't have expected that. I can only recommend it to everyone! Check it out and come by Georg's factory and see for yourself!
My observations for the Bb tuba Melton 197/2: In general, slightly easier blowing of the notes, especially in the high register. 2 notes that were difficult to play above a certain volume are now easy to play. I am satisfied with the result of the treatment.
Prices Cryogenic Treatment